Crowdfunding 2012 Camiseta
From Hack Story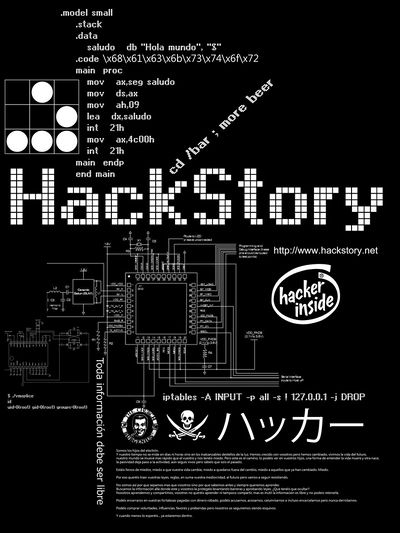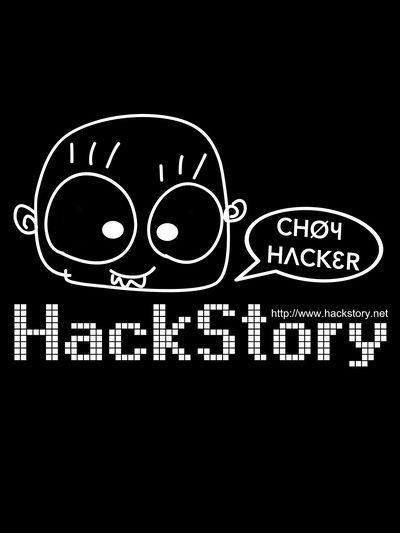 Cómo se hizo: el diseñador explica el diseño
Gerard Romans Camps:
Veamos el diseño de la camiseta ha intentado poner un pupurri de cosas, es dificil poner algo que guste a todo el mundo, es más autendefinirse hacker es de lamers.
Si hubiera puesto una chistera de mago y de ella saliera un conejo blanco seria un buen simbolo.
Tambien hubiera sido muy simbolico usar una tabla de skate, el patinar, el practicar trucos y saltos se parece bastante a ser un hacker. Ya que nunca sabes lo suficiente para poder hacer todos los trucos, siempre hay gente mejor que tu que hace mejores trucos etc pero no era plan :-)
Sobre lo que hay en la camiseta hay empezando por la izquierda uno de los símbolos más aceptados del movimiento hacker. Y esta basado en el Juego de la vida recomiendo leerse esta entrada de la wikipedia, ya que no es casual que se haya elegido este símbolo como hacker, ya que Ser hacker es como esa cita que dice...Caminante no hay camino sino se hace camino al andar.
Un hacker se hace programando por eso lo que hay al lado es el código de un Hello world en ASM, es lo primero que se hace como ejemplo cuando empiezas un lenguaje.
Enganchando hay parte de código hexadecimal que usa para overflow con javacript
Hay un poco de coña con el cd bar | more beer CD es ir a directorio bar y pedir más cerveza, hay iptables con ips locales que invitan al auto hackeo.
Hay el logo de Church of the SubGenius que seria un homenaje a los usenet y sus news y hasta el inicio de internet, una paradoria de la epoca usado por varios hackers.
El logo del Pirata lo he puesto por el simbolismo clasico, no por lo que ser hacker es ser pirata.
Hay hacker en japones ya que al igual que hay mucha influencia anglosajona, los Kanjis para un occidental son atractivos a la vista y invitan a su estudio ;-)
Luego hay una interpretación de un texto hacker originalmente Ingles y adaptado por...
Y en el centro lo que parece una CPU, unos chips, la esencia y he formado el logo de hackstory con pixels ya que un pixel al igual que un bit es la unidad mínima de información.
he olvidado, he descatado muchas cosas pero tenia que elegir ya que acabe poniendo tantas cosas, que eso era una sopa de letras hahaha
Ah y lo de hacker inside viene del mítico logo de Intel inside
Angel Vazquez Hernandez:
Supongo que la bandera pirata me corresponde a mí: se trata de una de las muchas versiones de la "Jolly Roger", concretamente la que usaba Jack Rackham.
Sobre el origen de la "Jolly Roger" hay distintas teorías http://es.wikipedia.org/wiki/Bandera_pirata , pero el caso es que actualmente todas hacen alusión al ideal libertario del pirata de Espronceda, probablemente originado en la historia de la comunidad pirata de Isla Tortuga.
Cómo se hizo: frases y textos para una camiseta de la Hackstory
Comandos
nmap -A -T4 scanme.nmap.org
svn co htt p://www.hackstory.net
C:/DOS C:/DOS/RUN RUN/DOS/RUN
tras "apt-get install windows_8", leer "System halted, change user and try again"
$ ./vmsplice
whoami
root

ó

$ ./vmsplice
id
uid=0(root) gid=0(root) groups=0(root)

[Se podría encadenar también en un comando la descarga, compilación y ejecución del exploit en lugar de únicamente la ejecución]




netstat -lanp |grep 'LISTEN '

¿Bash fork-bomb? -> :(){ :|:& };: }:-)

shell fork bomb : :(){ :|:& };:







Frases

IF YOU CAN HACK THIS, YOU ARE WELCOME

PONER UN ORDENADOR EN INTERNET NO ES SÓLO ENCHUFARLO [MANDA GUEGOS!!

DO YOU WANT TO HACK WITH ME?

https://twitter.com/martinvault/status/215823861382524928/photo/1

GIVE BACK TO THE NET AS MUCH AS THE NET PROVIDES TO YOU

DADDY, WHAT DOES FORMATTING DRIVE C MEAN? (cami para niños?)

\x68\x61\x63\x6b\x73\x74\x6f\x72 ??

GIVE A MAN AN XPLOIT AND U MAKE HIM A HACKER FOR A DAY

TEACH A MAN HOW TO HACK AND U MAKE HIM A HACKER FOR A LIFETIME

I'M HACKING FOR YOUR FREEDOM

NO HAY SOGAS NI FAROLAS PARA TANTO USUARIO

Whether you know it or not, if you are a hacker, you are a revolutionary. Don't worry, you're on the right side". ("Doctor Crash," Phrack. 1986)

¿QUIÉN ES EL "GENERAL FAILURE" Y QUÉ HACE LEYENDO MI DISCO C:?

NFS server GOD not responding, still trying

My name is dump, core dump

The use of "hacker" to mean "security breaker" is a confusion on the part of the mass media. We hackers refuse to recognize that meaning, and continue using the word to mean someone who loves to program, someone who enjoys playful cleverness, or the combination of the two ---RMS




OLD HACKER ETHIC

Access to computers - and anything which might teach you omething about the way the world works - should be unlimited and total. Always yield to the Hands-On imperative!

All information should be free.

Mistrust authority - promote decentralization.

Hackers should be judged by their hacking, not bogus criteria such as degress, age, race, or position.

You can create art and beauty on a computer.

Computers can change your life for the better.




NORMAS BÁSICAS DEL HACKER

Esto forma parte de las FAQ de es.comp.hackers. Lo he visto replicado, firmado o no por eljaker y no tengo claro del todo -no sé como confirmarlo- que él fuese el auténtico autor... en principio es un nick suficientemente conocido y.. respetado para que no sea sospechoso de copiar ...

1. Nunca dañes algo intencionadamente. Lo unico que conseguiras sera
buscarte problemas.
2. Modifica solo lo estrictamente necesario para entrar y para evitar
ser localizado, o para poder acceder otras veces.
3. No hackees nunca por venganza ni por intereses personales o
economicos.
4. No hackees sistemas pobres que no puedan reponerse de un ataque
fuerte. Ni tampoco sistemas muy ricos o grandes que puedan permitirse
gastar dinero y tiempo en buscarte.
5. Odia a telefonica pero no te metas con ella.
6. No hackees ordenadores del gobierno. (El gran hermano te observa)
Tal vez
sean mas emocionantes, pero no olvides que la policia trabaja para
ellos.
7. No comentes con nadie, a menos que sea de total confianza, tus
azañas. (Los mas grandes hackers de la historia han sido cazados
debido a las confesiones de sus novias)
8. Cuando hables en bbs o por internet, procura ser lo mas discreto
posible. Todo lo que digas quedara almacenado.
9. Se paranocio. Una da las caracteristicas principales de los mejores
hackers es la paranoia.
10. No dejes ningun dato que pueda relacionarse contigo, en los
ordenadores
que hackees. Y si es posible, ni siquiera "firmes".
11. Estudia mucho antes de lanzarte a la practica. En el proximo
numero
de esta serie hablare de los lugares mas seguros para empezar, pero
mientras
tanto, ten en cuenta que eres un total novato, si te encuentras con
problemas probablemente, tu aventura acabe antes de empezar.
12. Nunca dejes de estudiar y de aprender nuevas cosas, el mundo de
la informatica avanza rapidamente, y es necesario mantener un buen
ritmo si no quieres quedarte atras.

Algunos de estos consejos te pareceran anticuados y estupuidos, pero
la mayoria tienen un doble objetivo. Mantener limpio el maltratado nombre
de los hackers y evitarte problemas con la justicia.

                                                               Autor: The Mentor.
Traductor: eljaker

THE CONSCIENCE OF A HACKER

File: archives/7/p7_0x03_Hacker's Manifesto_by_The Mentor.txt
                               ==Phrack Inc.==
                      Volume One, Issue 7, Phile 3 of 10
 
=-=-=-=-=-=-=-=-=-=-=-=-=-=-=-=-=-=-=-=-=-=-=-=-=-=-=-=-=-=-=-=-=-=-=-=-=-=
The following was written shortly after my arrest...
 
                       \/\The Conscience of a Hacker/\/
                                       by
 
                                +++The Mentor+++
 
                           Written on January 8, 1986
-=-=-=-=-=-=-=-=-=-=-=-=-=-=-=-=-=-=-=-=-=-=-=-=-=-=-=-=-=-=-=-=-=-=-=-=-=-=

         Another one got caught today, it's all over the papers. "Teenager
Arrested in Computer Crime Scandal", "Hacker Arrested after Bank Tampering"...
         Damn kids. They're all alike.

         But did you, in your three-piece psychology and 1950's technobrain,
ever take a look behind the eyes of the hacker? Did you ever wonder what
made him tick, what forces shaped him, what may have molded him?
         I am a hacker, enter my world...
         Mine is a world that begins with school... I'm smarter than most of
the other kids, this crap they teach us bores me...
         Damn underachiever. They're all alike.
 
         I'm in junior high or high school. I've listened to teachers explain
for the fifteenth time how to reduce a fraction. I understand it. "No, Ms.
Smith, I didn't show my work. I did it in my head..."
         Damn kid. Probably copied it. They're all alike.
 
         I made a discovery today. I found a computer. Wait a second, this is
cool. It does what I want it to. If it makes a mistake, it's because I
screwed it up. Not because it doesn't like me...
                 Or feels threatened by me...
                 Or thinks I'm a smart ass...
                 Or doesn't like teaching and shouldn't be here...
         Damn kid. All he does is play games. They're all alike.
 
         And then it happened... a door opened to a world... rushing through
the phone line like heroin through an addict's veins, an electronic pulse is
sent out, a refuge from the day-to-day incompetencies is sought... a board is
found.
         "This is it... this is where I belong..."
         I know everyone here... even if I've never met them, never talked to
them, may never hear from them again... I know you all...
         Damn kid. Tying up the phone line again. They're all alike...
 
         You bet your ass we're all alike... we've been spoon-fed baby food at
school when we hungered for steak... the bits of meat that you did let slip
through were pre-chewed and tasteless. We've been dominated by sadists, or
ignored by the apathetic. The few that had something to teach found us will-
ing pupils, but those few are like drops of water in the desert.
 
         This is our world now... the world of the electron and the switch, the
beauty of the baud. We make use of a service already existing without paying
for what could be dirt-cheap if it wasn't run by profiteering gluttons, and
you call us criminals. We explore... and you call us criminals. We seek
after knowledge... and you call us criminals. We exist without skin color,
without nationality, without religious bias... and you call us criminals.
You build atomic bombs, you wage wars, you murder, cheat, and lie to us
and try to make us believe it's for our own good, yet we're the criminals.
 
         Yes, I am a criminal. My crime is that of curiosity. My crime is
that of judging people by what they say and think, not what they look like.
My crime is that of outsmarting you, something that you will never forgive me
for.
 
         I am a hacker, and this is my manifesto. You may stop this individual,
but you can't stop us all... after all, we're all alike.
 
                               +++The Mentor+++The Conscience of a Hacker. Phrack Volume 1 Issue 7




PROCLAMA DEL HACKER HISPANO

Somos los hijos del electron. Y nuestro tiempo no se mide en dias ni horas sino en los inalcanzables destellos de la luz. Hemos crecido con vosotros pero hemos cambiado, vivimos la vida del futuro, nuestro mundo se mueve mas rapido que el vuestro y nos teneis miedo. Pero este es el camino, lo podeis ver en vuestros hijos, una forma de entender la vida muere y otra nace, la pasividad deja paso a la actividad, aún seguis vivos pero sábeis que sois el pasado.

Estáis llenos de miedos, miedo a que vuestra vida cambie, miedo a quedaros fuera del cambio, miedo a aquellos que ya han cambiado. Miedo.

Por eso quereis traer vuestras leyes, reglas, en suma vuestra mediocridad, al futuro pero vamos a seguir resistiendo.

No somos asi por que sepamos mas que vosotros sino por que sabemos _antes_ y siempre queremos aprender. Buscamos la informacion alla donde este y vosotros la protegeis levantando barreras y aprobando leyes. ¿Que teneis que ocultar?

Nosotros aprendemos y compartimos, vosotros no quereis aprender ni tampoco compartir, mas es inutil la informacion es libre y no podeis retenerla.

Podeis encerraros en vuestras fortalezas pagadas con dinero robado, podeis acusarnos, acosarnos, calumniarnos e incluso encarcelarnos pero nunca derrotarnos.

Podeis comprar voluntades, influencias, favores y prebendas pero nosotros os seguiremos siendo esquivos.

Y cuando menos lo espereis... ya estaremos dentro.

Saludos. Misión salvar la tierra. Proclama del hacker hispano